Klein cousins traveled from Alaska, Nevada, Texas, Colorado, Florida and New York to join more than 60 members of their family for a reunion at the Belgium community center on 25 May 1991.
.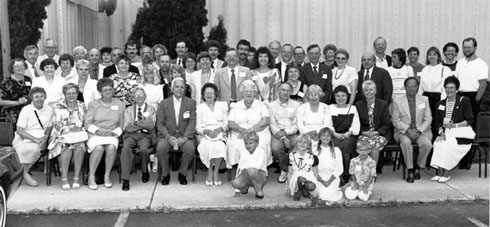 The four children in the front row, left to right, are Jeff Osterhaus, Tamera Hansen, Tiffany Hansen and Eric Osterhaus
.
Second row, Dorothy Tagatz, Pat Franks, Shirley Dalske, Ambrose Wester, Edward Gieryic, Irene Gieryic, Dorothy Klein Burhop, James Hansen, Mary Jane Janzer, Joan Hansen, Sue Montana, Chuck Beil and Florence Beil.
Third row, Mary Diederich, Ruth Pierringer, Esther Bley, Irene Nuedling, Doris Tiegs, Julie Gieryic, Jack Gieryic, Katie Gieryic, Linda Kaczmarek, Jane Gieryic, Michael Gieryic, Mary Hein, Jean Klein, Fritz Beck, Carol Beck, Al Peiffer, Virginia Klein, Betty Osterhaus and Brian Osterhaus.
Back row, Loschel Pierringer, Bill Bley, Bill Diederich, Dutch Nuedling, Chris Klein, Ray Tiegs, Dale Klein, Chuck Geiyric, Nancy Klein, Gene Wisch, Larry Kaczmarek, Dean Hein, Kathy Klein, Paul Hansen, Tom Klein, Dick Klein, Kathy Klein, Bill Klein, Ann Steketee and Jerry Steketee.

Published by the Ozaukee Press, photo by Vern Arendt.